Directions from 401 and Highbury exit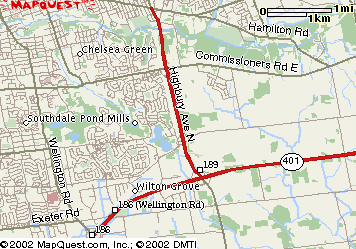 Highbury is the Second London exit. It is well marked. Turn right onto Highbury. Speed is pretty smooth sailing until you near the downtown midpoint. Ignore the McDonalds, that is the wrong one.
Dundas Street is the downtown midpoint. It is well marked. Keep on motoring.
Keep on Highbury as you cross the train tracks. You are coming up to Oxford Street (A major intersection) and it is well marked. Slow down and move into the left lane.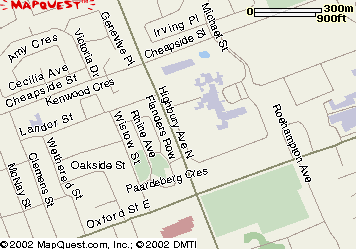 Past Oxford a couple of streets [only one light] is Cheapside Street. There is a McDonalds just beyond where you will turn left. Cheapside is well marked, **BUT** you WILL miss it if you are not looking for the stop lights and McDonalds. If needed, turn into the McDonalds and turn around and go back a few meters. Turn left [West] on Cheapside.
Now you are entering a residential zone. After turning left [West] on Cheapside, keep on motoring. Ignore all minor streets and lights
Keep on motoring. No interesting scenery!
Suddenly you hit a main intersection - Adelaide. The purple blotch to your right is a major mall and a 24hr METRO (formerly the A&P) store. Absolutely impossible to miss, so enjoy the scenery until the METRO food store. Slow down as you turn just past the lights.
The upper blue area on Adelaide is a corner Pub. It is a 12 minute walk North from the parking lot.
Just past Adelaide, turn left into the medical plaza. There is no problem with parking there during the parties. For guests crashing over night, you can move your car into my driveway after the party.

You need an invite for the address and for entry.
ID is recorded for all guests - safe sex.