What to expect at our bi swinger party?
All clothes are left at the door
and there will be naked people there having sex.
The Supreme Court has ruled Swingers are legal Canada.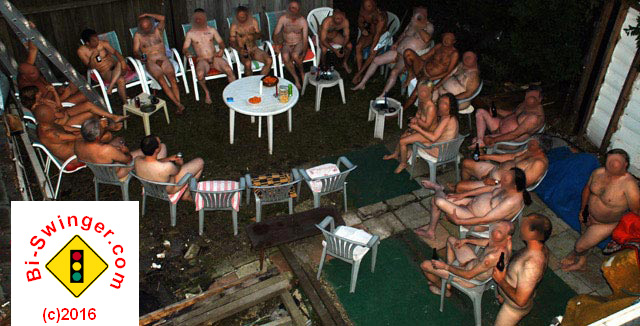 Video Promo (What to expect) montage
asa welcome to show you how our events work
Note: Please be patient - the videos are large and slow to load...

---
These bi-swinger parties have on-premise sex and are held in a private home in London, Ontario, Canada.

We are one of the few on-premise events in this region of Ontario that encourages single bi-males. We do allow single men. We are going into our 17th year and are one of the largest Regional Swinger events hosted in London. We have guests from windsor thru Toronto. When sex winds down, as dawn approaches, our out of town guests are welcome to spend the night in a guest room. BYOB but please drive safe.

As Host, I do not have sex at my own parties.
Instead, I host 24/7 between events.


---

All clothes are left at the door as these are on-premise sex parties.

Why? We are there for sex and so why put clothes back on after sex just to take them off agian? Consider your first high school dance - guys on one side, girls on the other, each waiting for someone to make the first move. The same goes for sex. Guests could waste 3 hours of a 4hr event just deciding who will get naked first. For those who want to flirt - go ahead and flirt while the other ladies have been having sex for the past hour. Why waste time wearing clothes?


Pre-event warm-up at the pub (7-8 pm)
Why get pre-event jitters? New guests meet early at the pub
Out-of-town guests are encouraged to arrive early so you are not rushed
We meet informally at the pub to stretch the legs, get a bite to eat or a pint of beer
Quiet, friendly, relaxing.
Doors open at 8pm
Parking is only in the designated parking area
Doors do not open until 8pm

Doors are not answered after 9pm to prevent members arriving fashionably late and interrupting others.
Please ring the doorbell and be patient - we have someone to greet you
Registration
At 8pm you will be let in and directed to the dining room where you register
If you are not on the confirmed list, you will not be allowed entry
The door fee is per couple and the same per single
Previous guests pay $60 at the door
First time guests pay $60 in advance (mailbox, in person, e-interact banking)
ID is recorded for the sexual safety of all guests
Where to change
After sign-in is complete, the greeter will show you the back bedroom to change
Clothes may be put in the bags provided and labled with tape and pen
For safety, all clothes are left in a common area, in the living room by the fireplace
By removing all clothes, we are all equal and not self-concious
Name tags will be provided after you change
White board markers are used, which will wash off with soap and water
Names are very important - always know who your partners are
You can mingle and get comfortable being naked
Upstairs is a double bedroom and the Playroom with lounge couches and a sex swing
Doors are not answered after 9pm
When the Cuckoo Clock strikes 9pm the play begins
Group play until the dawn approaches


PLEASE USE TOWELS BENEATH - Some ladies are gushers


Smoking is out back and bath robes are provided
Absolutely no poppers allowed inside the house - same as second hand smoke
The back yard is completely private


Please, drink responsibly as there can be consent to sex if intoxicated

All doors are left open, all lights left on low.


There is no pressure on anyone
First time guests usually just watch and socialize
The TV is usually showing the game and many relax in the living room between sex


Always be respectful and ask before sex
Some wives and some Husbands will say no to sex - No means just that.
No guest is required to have sex
If you are pushy, you will have a boring night without sex
The Swinger event winds down dawn approaches
We have group play until whenever
Some out of town guests walk over to the corner pub to unwind
Some have to get up early for work in the morning
However, if you leave before the play begins you wasted your night out


Out of town guests are welcome to spend the night in one of the guerst rooms
Linen is available
Londoners are asked to sleep at home and arrive home safely - please do not drink and drive !!!
If you are not with someone or sleeping with someone, it is probably time to leave
Our house parties are one of the very few events in Canada that welcome single men. We are now in our 17th year of hosting for those whop are comfortable with the Swinger Lifestyle. We do not discriminate. Singles are welcome.


---
Turn Offs for women & couples
Being used just as a conquest and just to fuck. Respecting that some women are not there to fuck.
The wham-bam-thank-you-mam approach to sex
Drunks
Drunks !!
Drunks !!!!
Getting stoned
Expectation that they have paid their money and the women or guys owe them something
Not respecting the word NO
A cock that has not been washed
Not washing hands between partners
Cumming over them any where near their muff. Safe sex is important.
Not using lube when fingering
Leaving used condoms on the floor
Ignoring their clit and the g-spot. Even men have a g-spotto explore
---
Don't ask how many Men/Ladies will be there!



If there are not enough ladies, take advantage of the men.


Numbers are always hard to predict. I am not a dating service. We are there for great sex and not dating. These are bi parties after all, so it does not matter what gender. Plenty of opportunity for great orgasms, unless you are a couch potatoe. Bi means the best of both worlds. Sex is sex.

For space limitations and safety, I limit the number to a maximum of 40 guests. Reservations are required as there is a cut-off. Unless you pre-pay, you may be there too late. Space is limited.

Those possibly arriving late or delayed need to warn me.


What happens when I ring the doorbell?

As you know all guests enjoy the evening without clothes. Think about it ... how long does it take to start a party if you are each waiting for the other person to get undressed? So, please be patient when you ring the doorbell - somebody has to get something on in order to answer the door !!!

Yes, there will be naked guests inside, but all windows are covered. The back yard is private too for those who need to smoke or want outdoor sex.


Do I have to register sign in?

These parties are all about safer sex. These days we have to play safe. In the days of Roman Orgies the only risk was getting pregnant. If you prefer to cheat on your spouse or lie about your name, then get a divorce.

I need full contact information recorded for all guests for the safety of their sexual partners. Condoms are required for all intercourse. Please write clearly.

Once you have paid and registered you will get a wrist band.


Where do I change?

After you register in the living room and you can get changed in the front guest room. Your valuables are probably safer locked in your car, though I do have a lockup if needed and you are concerned. Bags are probvided and you can add a name tag. Bags are left in the living room in public view for safety.



Name tags

Always know your partner. As part of the process each guest gets a name tag AFTER they have signed in. First name only. Being naked, the name tag is the only way to remember who is who while having sex. It also means that "no means no" and you can complain about someone. As your host, it sexual assault if someone goes beyond your wishes and I will lay charges.

The name tags are the standard "white board markers". They wash off soap and they disolve instantly. If you feel like doodling on guests, by all means... as they do wash off. These parties are about fun.


What is the "social" hour?

For the first hour we socialize as guests arrive. Without clothes and pockets for your hands, it is easy to get to know people. If you do not meet the guests, they will probably say no to sex.

We ask people not to show up "fashionably late" and that is why the doors are locked at 9pm. Those from out-of-town or expect to arrive late should make plans in advance so we know you are expected.

A few people start off awkward at being naked, as everything is exposed. Zits on down, as none of us are Ken and Barbie Doll types. The social is to get people comfortable and talking. This is where the name tags help as new guests arrive and sign in.

These are BYOB parties. Smoking is only allowed outside as this is my home. In July, we started off in the backyard, other times it has been the playroom. Everything changes on the weather and heat. Either way, it gives guests time to get undressed, sign in, grab a drink and start talking.


How does the party start, after 9pm?

These are casual parties. There is no magic hour. 9pm is to stop people from arriving fashionably late... and for all arrive at once. All guests leaving their clothes at the door is an excllent start.

When the cuclkoo clock strikes 9pm, guests mingle to the various rooms and the sex begins. For the newcomers, it is ok to just watch. There is no pressure on anyone. At our parties, everything is social and casual. Many swinger clubs insist there is no talking during sex !!! Boring ??? The regulars, however, do not waste much time. Bottom line is if you are a couch potatoe, then you sit on the couch.


Do I need to wear a condom for intercourse?

Yes. Condoms and flavoured lube are supplied.


What happens if I get a hard-on?

Put on a condom and put it to use. Actually, it is easy to see who has just been fucking as they are still wandering around with a hard-on. The ladies loveto see the hard-ons, the guys as well.


Ladies - can you reach out and cop a feel?

Obviously, no means no. Body language tells the story and just say sorry if needed.

Personally, as a male, I can assure you that no guy will object to a playfull grab of their buns or balls in passing. It is the one setting where it is acceptable and not sexual harassment. Without clothes, we are equals, and you know why we are here.

As host I am always fair game for a grab as I pass by, as I'm contantly running around to check on things. This goes for the guys as well as the ladies. At other parties, I've had my cheeks kept cherry red, balls tweeked and my cock pulled until hard. I enjoy the hand contact. This is what social sex is about.

These parties are fun, If hand contact is done in good taste and with laughter, then go for it. We are all naked and know why we are here.


Men - can you reach out and cop a feel?

Obviously, no means no. Body language tells the story and just say sorry if needed.

Everything depends on the "context". If you are non-threatening, and playfull, then it is all in good fun as you are passing. Obviously, none of us "needs" their first feel. Why not hug a lady as you walk past and then talk to them, complement them. If they respond to a hug then be playfull. It is one of the few parties where you can muff-dive while a lady is in the middle of a social conversation. This is not one-on-one sex, you are not interrupting their laughter if you muff-dive at the same time.


Bi-Men - can you reach out and give a blowjob?

Obviously, no means no. Body language tells the story and just say sorry if needed.

Some of the guys will be straight and will NOT want any contact, so please respect that. Yet, these are bi parties and a blowjob is a blowjob.

Others are fair game and would love a gentle tug, or teaser blowjob, while they are in mid-sentance as you are walking past. One common complaint is a large number of guests were hoping to try blowjobs but nobody offered.

Either be a couch potatoe, or use the marker to advertise and enjoy the party. Try the marker and have someone write on your back "I need the practice". Why let the ladies do all the work? Or, "If soft, service".


Can I join in during group sex??

During sex, these are **NOT** one-on-one sex orgasms. You can be a couch potatoe or you can give a lady extra orgasms. During sex work a toe, nipple, earlobe, clit, whatever. Each of us has our own style. Multiple orgasms are from multiple sensations.

Usually, we have up to six guys working on the ladies at once. From toes to clit to nipples to whatever it takes to give multiple orgasms. When you get winded, step back and let someone else step in. Each guy has their own style. Multiple orgasms from multiple sensations at once.

This goes for the circle Male Blowjobs. Don't be afraid to cut in the middle, or grab someone's balls as you walk past. They are having group sex, so obviously they do not mind an extra hand or cock in there. Never be shy about a quick taste.



Ladies - Can I watch the guys? Can I give them pointers?

Yes, you will find guys are not that shy after all. If you catch someone masterbating, cheer him on and watch. Each guy has their own style. Or if you see a hardon, give it a quick high five.

Also, some guys are shy and learning how to give their first blowjob. If they are doing things all wrong, jump in, grab it, stick it in their mouth, and tell them what to do. Always share... and always share your tips. These are bi parties and some of the men are just learning. I was taught by a wonderful lady who would always share and give pointers when I started.

Sharing your blowjobs with a guy is comical. Less work for you and an amazing amount of fun. A contest to see who gets the first deposit. Few guys have experienced that sensation. Be patient, share and teach them the tricks.

If you see a guy soft, ask him to masterbate. Every guy has their own style... just too ashamed to admit it. Why do all the work when you can watch him do it himself. Or shang-high someone else to do it for him and watch their style. The ideal way to learn new techniques and see how individual each guy's style is.


Ladies - Can I bring my favourite toy?

Yes, what is good for the goose is good for the gander. Make it fit in. We have plenty of lube. These parties are about new experiences and new limits. Be aggressive. Feel free to explore. We have plenty of toys in the playroom too.


Can we socialize during sex?

Absolutely! There are a number of Swinger clubs with strict rules that all guests must remain quiet during sex. Not ours. Sex is spontaneous. Sex is fun. We socialize as a group. If you look at the pictures, everyone is laughing and talking when their mouth is not full. These are not one-on-one situations.

There is no need to find a quiet corner where nobody is watching. Be adventurous... start having sex in the middle of the room... or the middle of a conversation. We all know why we are their and sex is fun.


When do we have to leave?

There are a number of guests with a long drive home and so some start to leave around 1am. However, others are completely exhausted from the orgasms and call it quits earlier. These are "parties". That means you do not have to have non-stop sex to enjoy the party. Enjoy the food, enjoy the experiences of every one's tasts, enjoy the talk, and swap e-mail addresses.

The website has a list of hotel rooms, or just crash on a couch or in a guest room.


What happens after?

I have privacy rules and so I cannot share e-mail addresses. Please get them before you leave. If you want to contact a guest, please let me know and I will forward that request to them. This is where the name tags help.

Most of us enjoy the safe sex, and with the regulars we can be comfortable getting together on our own. For example, I have some regulars who drop by for new pics and great sex between parties. If a camera comes out I always get naked.

Others, get together tanning at the nude beaches or arrange road trips. These parties are about socializing. Safe sex is easy if you ask.

This is not a dating service. Guests leave alone. It is not "cool" to try and pick someone up. This is a lifestyle, and not a dating service.